Between 2007 and 2018, A Rocha Ghana worked with 13 secondary schools and one university around Kumasi in central Ghana to grow over 18,000 trees. We planted indigenous varieties suited to the local climate, including Nauclea diderrichii, Terminalia superba, Ceiba pentandra, Khaya ivorensis., Parkia biglobosa, and Diospyros crassiflora. In addition to these native species, we planted 10% of each site with a commercial crop such as cashew, mango, or citrus.
The canopies of these trees have now closed and we continue to support school environment clubs at six secondary schools, where the new forests are used to teach the next generation of students about the importance of trees.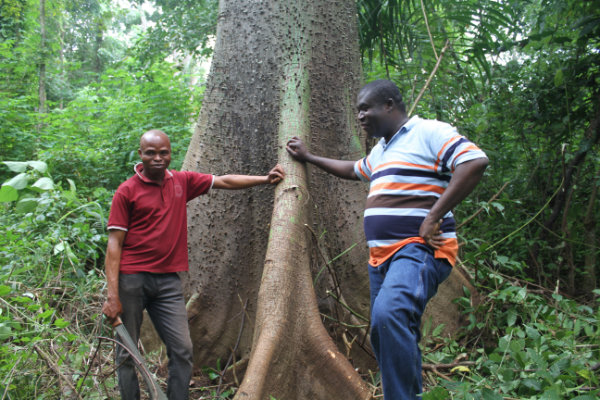 Prosper Antwi, Manager of the Climate Stewards program, writes about one of these sites.
"Our 3-hectare urban school site at Nsutaman, near Kumasi, is contributing tremendously to research. The site, which was initially a wasteland and rubbish dumping site and was being seriously encroached for different urban activities, has about 1,100 planted mix of indigenous tree species:
The site is very close to the Kwame Nkrumah University of Science and Technology (KNUST) and has proved to be a practical learning site for forest resources students. This means students do not have to travel far to forested areas to study indigenous trees – a situation that also helps carbon emissions due to less bus travel time!
Deborah, inspired by the need to care for the environment, works with A Rocha Ghana's School Clubs in Ashanti region. She is a science student who aspires to become one of the leading conservationists in Ghana. She heard about our school clubs in 2010 whilst studying at KNUST. She joined the club there and quickly became Assistant Secretary, and then General Secretary. She has also been a volunteer at A Rocha's Kumasi Office.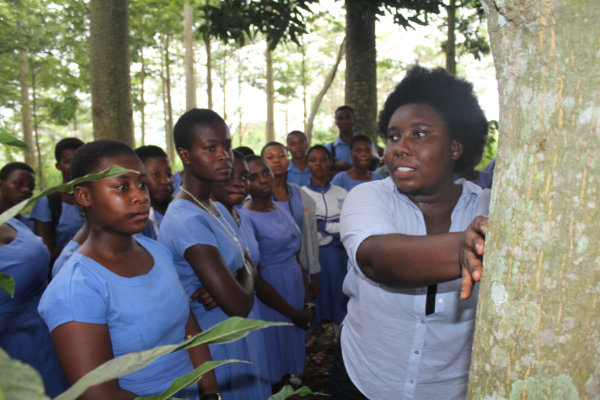 She graduated in the top 2% of her class and was recently selected from over 1,000 applicants to represent West Africa at the Youth Forum for People and Wildlife in South Africa.
Deborah has worked with younger KNUST students to help them as they learn about topics such as dendrometry, tree identification, plantation management, carbon calculations, awareness creation, and local community networking for conservation. Martha, a fourth-year forest resources student, has spent time estimating the carbon sequestration potential of the tree species on-site. She has done this by measuring diameter at breast height, crown size, tree height, etc. A recent trip showed that the largest tree has a diameter of 79.80 cm (Ceiba spp.) and the smallest tree has a diameter of 13.04cm (Terminalia spp.).
People like Deborah are crucial to the success of our school clubs as they are willing to share their knowledge and inspire younger students to learn and achieve more."