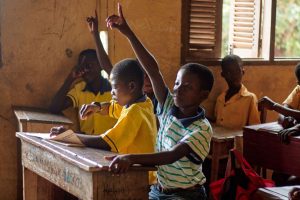 Thanks to funding from Climate Stewards, A Rocha Ghana supports school clubs in six schools in the Lake Bosomtwe catchment area where our community carbon offsetting projects operate.
The predominant environmental issues in the Lake Bosomtwe area are climate change, biodiversity loss, water pollution and plastic waste pollution.
The school clubs and activity days are run by the A Rocha Ghana staff team plus up to 20 volunteers from the Environment Club at the local university, giving the university students valuable experience and bringing fresh insights and energy to the schools.
In the clubs, the students are challenged to think critically and creatively through different activities about environmental challenges and restoring the environmental balance of their local area around the lake.
As part of learning about climate change, the students do some tree planting, and take part in caring for the trees so that they will grow strong and healthy. By planting indigenous trees, they learn how they can increase biodiversity and soil health as well as locking up carbon.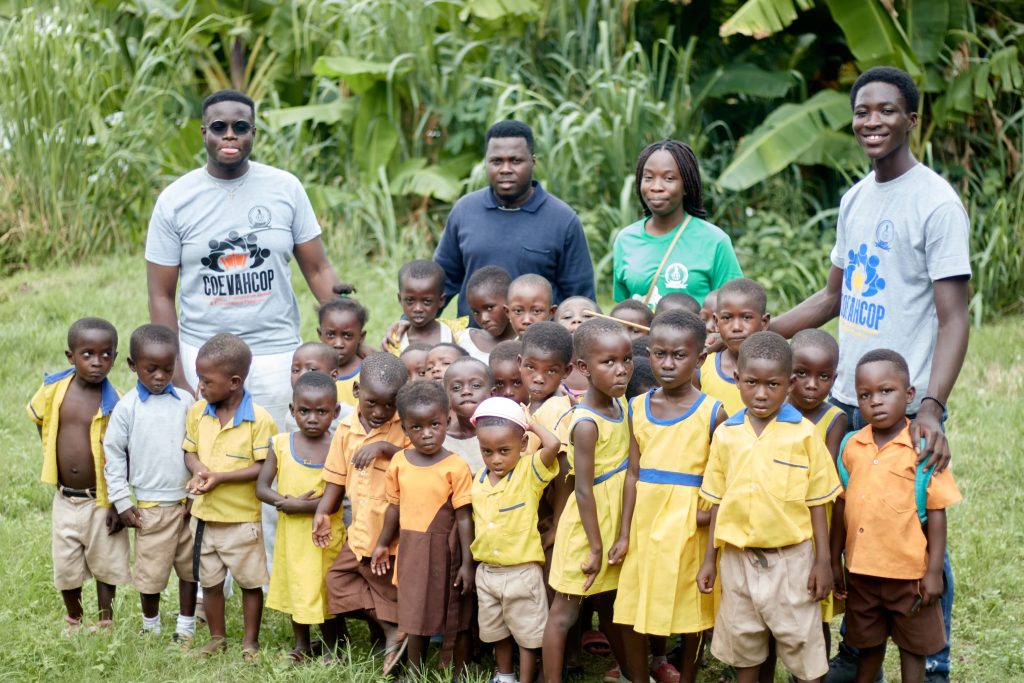 Before moving to the Lake Bosomtwe area, Climate Stewards supported A Rocha Ghana to plant over 18,000 mostly indigenous trees at school and university sites around Kumasi in central Ghana.  10% of each site was planted with fruiting trees such as cashew, mango or citrus, to provide a source of income. The trees have now grown to heights of up to 20 metres, and the canopies have now closed so they are largely self-managing. These mini forests are still used to teach the next generation of students about the importance of trees.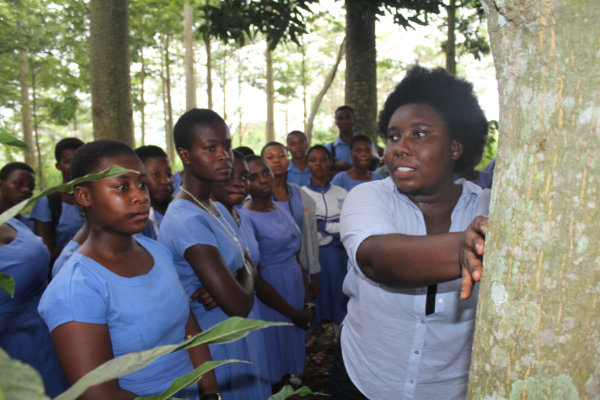 Deborah graduated in the top 2% of her class and was selected from over 1,000 applicants to represent West Africa at the Youth Forum for People and Wildlife in South Africa.
She has worked with younger University students to help them learn about dendrometry, tree identification, plantation management, carbon calculations, creation care and local community networking for conservation.
Deborah taught Martha, a fourth-year forest resources student, who has spent time estimating the carbon sequestration potential of the tree species on-site by measuring DBH (diameter at breast height).
People like Deborah are crucial to the success of the school clubs as they are willing to share their knowledge and inspire younger students to learn and achieve more.