by Marleigh Powell, Church Outreach intern
On September 18th, 2022, Hurricane Fiona struck Puerto Rico leading to extreme flooding, power loss, and 25 deaths. In some areas, two to three feet of rain fell in just three days, trapping people in their homes as the waters rose. While hurricanes develop every season in tropical regions, according to NASA, these storms are increasing in intensity. In fact, Puerto Rico has not fully recovered economically from Hurricane Maria in 2017, and the impacts of Fiona will further delay the country's rebound. Those already struggling with food insecurity are now dealing with flooded farmland and damaged crops from the extreme wind gusts. Climate change not only affects Puerto Rico's environment, but also poverty, homelessness, and food security issues as well.
A Threat Multiplier
Climate change multiplies threats by complicating the issues we are already facing, making them more difficult to solve. For example, as the fight to end world hunger continues, the intensifying storms and droughts caused by climate change are increasing food scarcity through issues such as crop damage. Drought is a vicious cycle, drying out the land so that the soil cannot absorb the rain when it does come, leading to further years of crop loss. Climate change also exacerbates issues such as exposure to heat exhaustion, increased disease incidence, and sea level rise. Minorities and communities with fewer resources are disproportionately impacted by these effects. They are more likely to lack the funds to turn on air conditioning, secure quality health care, or move away if their home becomes environmentally uninhabitable. The vulnerable such as the sick, children, and elderly suffer disproportionately as they are not as resilient to shifts in weather conditions that a warming climate can bring. 
Those Contributing the Least are Suffering the Most
While climate change is at its core an environmental issue, it is a justice issue as well. Developed nations, mostly in the global north, who are contributing most to a warming climate, through burning fossil fuels, are best equipped to deal with climate change. Affluence allows people to distance themselves from the true effects of climate change by building infrastructure such as walls to prevent flooding for sea level rise, or installing air conditioning units as temperatures rise. Countries with fewer resources and industry, who contributed the least to climate change in the first place, are left to deal with the fallout. Bangladesh, Chad, and Haiti have per capita carbon footprints that are negligible compared to citizens of countries such as the United States but are amongst the most affected by climate change.
A Christian Response to Climate Change
God's Word calls us to care for "the least of these" and elevate the voices of those suffering throughout scripture. Proverbs 31:8-9 says, " Speak up for those who cannot speak for themselves, for the rights of all who are destitute. Speak up and judge fairly; defend the rights of the poor and needy."
Therefore, God clearly calls us to work to end the climate crisis. The Lord also has given us dominion over creation and calls everything he has made good (Genesis 1:1-31). As Christians, Jesus calls us to love our neighbor and put others before ourselves. When we see our brothers and sisters suffering, we must do our part to help them out of dire situations. We know that the Lord is a just and loving God and that he wants us to walk in a manner worthy of the Gospel while we are on his Earth, reflecting his love to those around us. This means seeing and loving others as Jesus would, caring for the poor, widowed, and sick. God also calls us to steward well the beautiful creation gifted to us. Living righteously includes doing our part to care for the environment and help those negatively impacted by climate change.
A Beacon of Hope: The Justice Conference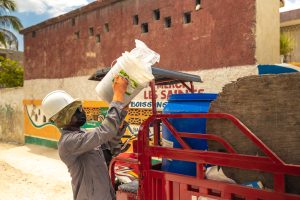 While this information may sound daunting, we can have hope there are people and organizations mobilizing toward these changes that we want to see in the world. I recently attended the Justice Conference in Denver, Colorado, where Tearfund USA provided the opportunity to explore the intersections between climate change, justice, and ministry. Tearfund helps communities take steps to better their environment, economy, and overall way of life. We heard from Marc Antoine, the director of diaspora engagement at Tearfund. Marc is from Haiti and was able to share a first-hand perspective about the injustice Haitians are experiencing. Although Haiti's economic and industrial activities contribute very little carbon dioxide emissions, the consequences of climate change make Haiti the third most affected country on the planet, behind Puerto Rico and Myanmar. The climate crisis hits Haiti with droughts, crop failures, and stronger hurricanes. However, Marc's message brought hope as he shared about the projects Tearfund runs to increase resilience in Haitian communities.
Tearfund empowers Haitian communities to run waste collection businesses. This creates jobs and allows people to collect and sort plastic and organic waste from homes, thereby reducing trash in streets and nearby rivers. In turn, the plastic waste is turned into paving tiles, which they sell to improve the infrastructure of the communities. This funding and small-step solutions keep waste off the streets and river banks, provide jobs and improve the economy, and better the community by paving roads! God encourages us to diligently labor, and wants to reward our hard work (Psalm 128:2). When we put in our best efforts to work for good, as portrayed in creative problem-solving by Marc, Tearfund, and the Haitian community, God is faithful to honor these endeavors. 
Next Steps You Can Take
While we face the climate crisis and gross injustices happening around the world, I hope this post mobilizes and inspires you and your community. By getting involved with or donating to organizations such as Tearfund and Climate Stewards USA, and taking steps to mitigate your own climate impact, you can raise your voice for those in need. Climate Stewards USA's resource guide specially made for The Justice Conference has books, podcasts, and other materials on climate change education for churches and Christian groups, and practical first steps to begin to reduce your footprint. 
You can raise awareness in your community by starting conversations about these topics. While at times they can feel difficult, change begins with discussion. Having good-hearted and educated conversations with trusted loved ones can transform hearts and minds. People take action when they find inspiration and others who share their concern for the climate. Common ground can even exist with those who may not hold these views. For example, everyone likes saving money. Switching to energy-efficient lighting, shopping secondhand, and installing solar panels all reduce emissions and save money in the long term.
Pray and ask where you are being called to get involved and what next steps you can take in creation care and climate justice to help protect God's children around the world. God our Father hears prayers and faithfully answers them. He is our Savior and Friend, who offers us deep peace amid existential threats. "I have told you these things, so that in me you may have peace. In this world you will have trouble. But take heart! I have overcome the world." John 16:33.
Image credits:
Header photo by Aulia Erlangga/CIFOR CC BY-NC-ND 2.0